HLI Community -
The Last Post
Written by JimDevine
Sunday, 28 September 2014 10:59
It is with great sadness that we have learned of the passing of our member John Scrivin. Many members will remember John at the Normandy commemoration trip last year (see News Archive:
Normandy 6th June 2013
). John's nephew Garry has kindly forwarded the details below.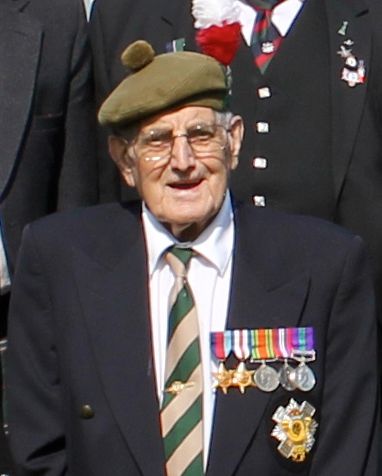 John Scrivin Pte
10th Batt. H.L.I.
b. 21/07/1925
d. 13/04/2014
During WW2 my uncle John joined his local (Halifax, Yorkshire), regiment the Duke of Wellington's. Later he volunteered to join the Commandos. He was sent to Achnacary for basic training and on completion was accepted. He was posted to 9 Commando whose theatre of operations was the Mediterranean. Unfortunately while on leave back at his Regiment he broke his ankle playing football. This ended his involvement with the Commandos.
He was then posted to 10th Batt. H.L.I.. It was with the 10th that he landed on the beach at Courseulles sur Mer on D Day +6. He was with the 10th through France, Belgium and Holland. He was taken prisoner early January 1945 and spent three and a half months as a guest of the Third Reich in Stallag 11b. The camp was liberated in April. He would then serve with the 5th Batt. H.L.I. and the Dorsets as part of the Army of Occupation. He was demobbed in 1946. He would then re-enlist in 1948 and spend five years in the R.A.S.C., posted to Egypt attaining the rank of sergeant.
He was a member of the Normandy Vets Assoc. and the POW assoc.. He went back to Stallag 11b a couple of times for their annual commemoration of the liberation of the camp as a guest of the British army in Fallingbostal. There he visited the grave of his best friend, Robert Docherty, who was killed in April 1945. In 2013 I asked him if he would like to go back to Normandy with PRA. He said he would and there he met a fellow Normandy vet (John Lamont) and members of the HLI and Glasgow Highlanders Assn. Invited by them he attended a ceremony and laid a wreath at the memorial in the cemetery at St Manvieu, Cheux. He enjoyed a few beers in Ranville with the lads and then a visit to Pegasus Bridge. His trip was crowned with a visit to the beach at Courseulles sur Mer.
He was never a man to overstate things but when he came off the beach he turned to me and said "I'm glad I came" . That spoke volumes. From that day until the day he died he would tell everyone and anyone about those two days he spent in France. To those who were there, members HLI and Glasgow Highlanders Ass and Paras Ass, on his behalf, a very big thank you.
Regards
Garry.