News -
News Archive
Written by JimDevine
Wednesday, 26 February 2014 14:49
Birkenhead Memorial Unveiling: Wednesday 5th March 2014
Hamilton Square Birkenhead 11am
HLI Members are invited to attend the unveiling of a new
memorial commemorating the gallant
actions of the 74th of Foot when the troopship HMS Birkenhead was wrecked off the Cape, South Africa
in 1852.  This was the first occasion when the term
"women and children first" was used as the Officers
and men of the 74th Regiment of Foot (which became the HLI) formed up in order on deck as the ship went
down in order to avoid swamping the lifeboats carrying the women and children on board.
The Highland Light Infantry Standard will be in attendance with a delegation of HLI members
including some local Merseyside members.  The unveiling ceremony is open to the public.  If any
members or associate members would like to attend the civic reception in Birkenhead Town Hall
afterwards please contact the Secretary asap.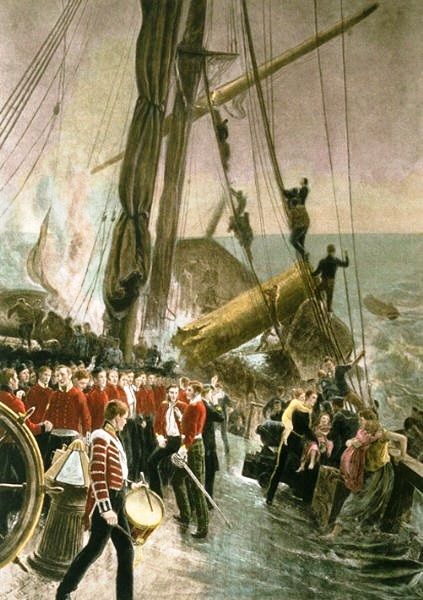 Wreck of The Birkenhead
Thomas M. Hemy 1892