HLI Community
This is the community section of the website where our members can look for friends, tell a story about the HLI, contribute to further research on the Regiment and share family history research.
Please Note

The HLI association does not hold service records, and cannot answer enquiries regarding individual soldiers.  The  Royal Highland Fusiliers Museum www.rhf.org.uk may be able to help or offer advice.  The RHF Museum charge a fee for research but it is quite a modest one. (Currently £20)  Details of archival resources held and further information can be found here: http://rhf.org.uk/rhf/index.php?option=com_content&view=article&id=66&Itemid=80
The views and comments found here are of the online membership and do not necessarily reflect those of the Highland Light Infantry Association.
It is organised into four categories:
---
1. Find a Friend - This section is intended for former serving members to help connect old friends and comrades. For family history research see below. ( go to section
)

---
2. HLI Stories - This section is for personal memories or recollections from those who served with the Regiment or stories from friends and family of those who served. ( go to section
)
---
3. HLI Research - This section is for formal research into the Regiment and is intended to be academic in tone rather than purely personal.          ( go to section
)
---
4. Family History Research - This section is where members can share family history research. Please keep this section focused on the HLI and associataed Regiments. ( go to section
)
---
5. The Last Post - This section is reserved for 'In Memoriam' notices on recently fallen comerades. ( go to section
)
---
Submissions to the HLI Community section can be made through the HLI Community Menu on the left (registered users only).
Full guidelines and instruction for use can be found here.
Some of our most recent posts are shown below.
HLI Community -
The Last Post
Written by JimDevine
Tuesday, 11 June 2013 12:11
Angus McWilliam of Peterhead passed away 5th June 2013, three days after his 87th birthday. Angus had been unwell and living in a nursing home for some time. Sadly Angus's wife, Helen, died only a few month's ago.  My Dad, Charlie (Dobson), thought that something was wrong because Angus and himself had always exchanged birthday cards as they were born only 7 days apart.  My Dad turned 87 on May 27th and for the first time in donkeys years no card from Angus. Angus turned 87 on June 2nd.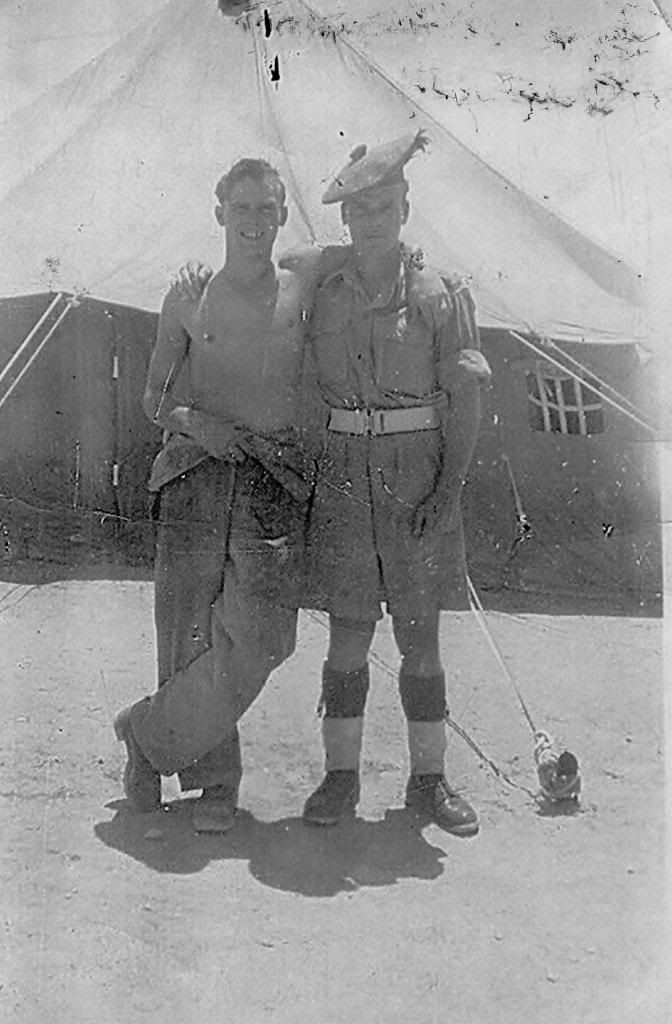 Angus on the right.  Egypt or Palestine between 1945-1947
Dad and Angus served in the 1st Battalion from 1944 to 1947 and had remained firm friends all these years.
So yet another old warrior reports to that great parade ground in the sky!
Steve Dobson.
The HLI Association extend heartfelt condolences to Angus and Helen's family.
HLI Community -
Find a Friend
Written by JimDevine
Monday, 25 February 2013 00:14
looking for members of the hli pipe band  1952   1953   if anybody rembers  horrace  please contact me on  This e-mail address is being protected from spambots. You need JavaScript enabled to view it
HLI Community -
Family History Research
Written by JimDevine
Saturday, 26 January 2013 17:54
The attached are pictures of my other great uncle William Gilmour from the Maryhill area.  Members at WW2 Talk and the Army Museum suspect the uniform is HLI.  Could you possibly post on my behalf to see if anybody can confirm it's HLI please?  Unfortunately I do not have to original photographs.
I'm still waiting on Alexander's service record but I suspect he may not have seen overseas service due to his age by 1939.  Regardless, I still got a copy of Mountain & Flood and am thoroughly enjoying the read.
Hope all is well with you and am really looking forward to stopping by the museum when I can get a chance to pop down to Glasgow one of these days.
Kind regards
Maria
Please reply to Maria if you can shed any light.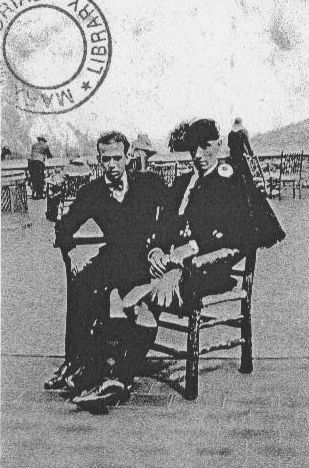 HLI Community -
Find a Friend
Written by JimDevine
Tuesday, 04 December 2012 10:51
3316968 Cpl William Nixon Joined on 15 Sep 1939 till 1946,( William is now 94) he would like to know if there are any of the 10th Bn still out there that he can contact to let them know someone is still here, 
Willie goes to Germany with Willie Shaw and the group. 
A request from John(Spud)Thompson via the RHF Forum.  Please post a reply here and/or to the Secretary.
HLI Community -
The Last Post
Written by HLI Admin
Sunday, 02 December 2012 16:58
Major J.A. Rutherford HLI (Glasgow Highlanders)
Rutherford, Ian (J.A.) Peacefully at The Royal Infirmary Glasgow on 15th November 2012 in his 97th year. Husband to Dor, father to Tim and Donald. Father in law to Maggie and Viv. Grandfather to Susie, Fiona, Grant and Lynne. Great Grandfather to Alex. Fondly remembered by many friends made during his time in the army, legal career and sporting life. As he wished, his body has been donated to medical science and there will be a memorial service held at Glasgow Cathedral, Castle Street G4 0QZ on Monday 10th December 2012 at 11am. The family extend an invitation to all friends and members of HLI Association to attend.
Major Rutherford was mentioned in despatches for his action in command of B Company in the assault on Walcheren Island in November 1944.
« StartPrev12

3

45678910NextEnd »
Page 3 of 12