The Last Post
This section is reserved for 'In Memoriam' notices on recently fallen comrades. To submit to this category, please contact the This e-mail address is being protected from spambots. You need JavaScript enabled to view it .
'In the morning,
and at the going down
of the sun,
we will remember them'
HLI Community -
The Last Post
Written by JimDevine
Thursday, 25 July 2013 09:47
We have been informed by Mr Ron Bowes of the death of his Uncle, Hugh Gorman Harris. Our condolences go out to Hugh's family at this time. Details below from Ron:
Hugh was a member of the HLI family who signed up under age and  then fought through Sicily, Italy etc during the Second World War.  Hugh joined the reserve in 38 and consequently was among the first to be called up to the Maryhill barracks at the outbreak of war. He completed 3 amphibious landings, Sicily, south Italy and a further landing higher up. He spent part of the war fighting with a French Canadian regiment and consequently went on from Italy through France.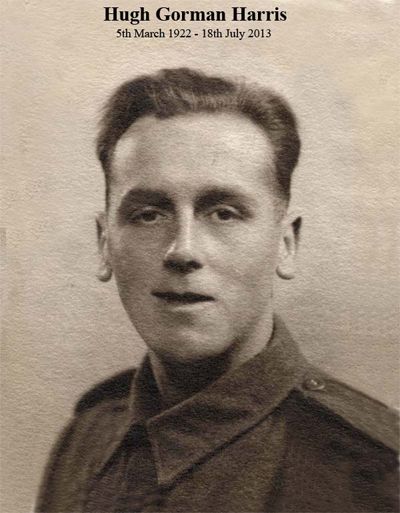 Hugh passed away on 18th July 2013 aged 91 at Hairmyres Hospital. Hugh was a soldier
in outlook and bearing right to the end. I brought Hugh to one of your reunion meetings a few years ago and he enjoyed himself immensely and I would like to thank the boys present for making it a memorable evening for him. Hugh is survived by two sons who both served a full 22 year term and a
daughter.
Hugh's funeral is at Our Lady and St Anne's church, Jack Street, Hamilton
at 9.30 on Thursday.  
Regards
Ron Bowes (nephew)
Farewell old comrade.  Hold a table for us in the celestial mess!
HLI Community -
The Last Post
Written by JimDevine
Tuesday, 11 June 2013 12:11
Angus McWilliam of Peterhead passed away 5th June 2013, three days after his 87th birthday. Angus had been unwell and living in a nursing home for some time. Sadly Angus's wife, Helen, died only a few month's ago.  My Dad, Charlie (Dobson), thought that something was wrong because Angus and himself had always exchanged birthday cards as they were born only 7 days apart.  My Dad turned 87 on May 27th and for the first time in donkeys years no card from Angus. Angus turned 87 on June 2nd.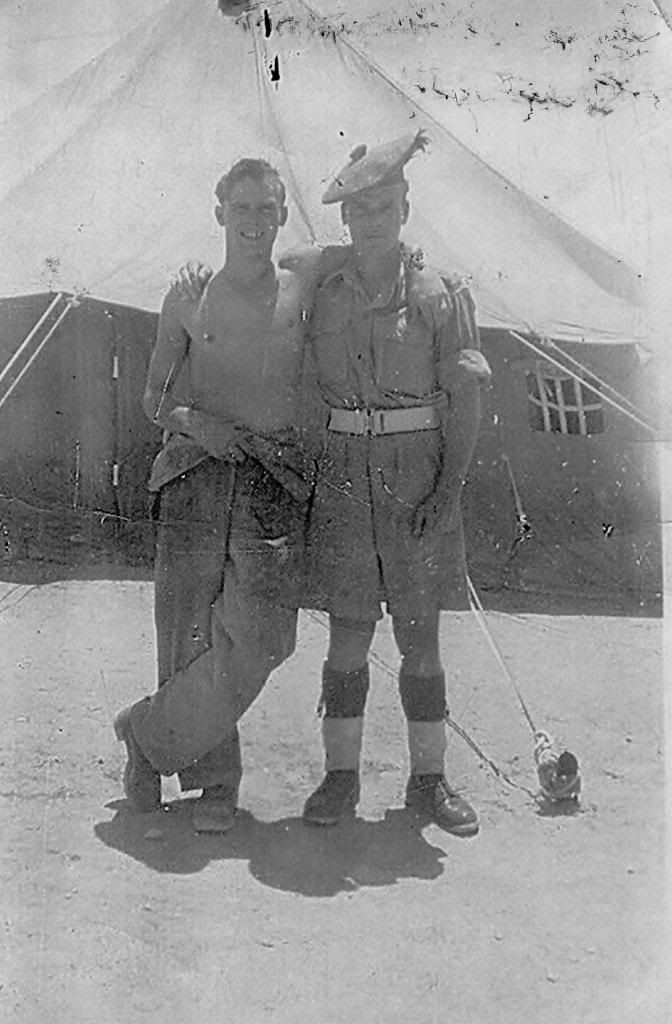 Angus on the right.  Egypt or Palestine between 1945-1947
Dad and Angus served in the 1st Battalion from 1944 to 1947 and had remained firm friends all these years.
So yet another old warrior reports to that great parade ground in the sky!
Steve Dobson.
The HLI Association extend heartfelt condolences to Angus and Helen's family.
HLI Community -
The Last Post
Written by HLI Admin
Sunday, 02 December 2012 16:58
Major J.A. Rutherford HLI (Glasgow Highlanders)
Rutherford, Ian (J.A.) Peacefully at The Royal Infirmary Glasgow on 15th November 2012 in his 97th year. Husband to Dor, father to Tim and Donald. Father in law to Maggie and Viv. Grandfather to Susie, Fiona, Grant and Lynne. Great Grandfather to Alex. Fondly remembered by many friends made during his time in the army, legal career and sporting life. As he wished, his body has been donated to medical science and there will be a memorial service held at Glasgow Cathedral, Castle Street G4 0QZ on Monday 10th December 2012 at 11am. The family extend an invitation to all friends and members of HLI Association to attend.
Major Rutherford was mentioned in despatches for his action in command of B Company in the assault on Walcheren Island in November 1944.
HLI Community -
The Last Post
Written by HLI Admin
Wednesday, 15 August 2012 06:13
It is with regret that I inform you of the death of John Wilson aged 82. He served with the Regiment from 19/7/50 to 2/1/52. He died in the city of Bath and his funeral was on the 16/11/11 Reported by David Ewen.
HLI Community -
The Last Post
Written by JimDevine
Saturday, 14 July 2012 13:30
It is with deep regret that Mr Andrew Bendy has informed us of the death of his Father Clive,
who passed away on the 9th of April 2012.
Clive served with the HLI in Egypt. Clive and his Brother both followed his Father into the HLI.
His Father is Arthur Bendy, the boxing champion who appears in our Family History section.
Andrew has kindly sent this photo of his Father, which he believes was taken in Egypt.
If anyone can confirm the location, or have any memories of Clive,
I am sure Andrew would be delighted to read your comments.
« StartPrev12

3

4NextEnd »
Page 3 of 4