HLI Stories
This section is for personal stories or recollections from members who served in the HLI Regiment.
HLI Community -
HLI Stories
Written by Steve Dobson
Friday, 25 March 2011 16:48
Here is my Dad's discharge book when he eventually got home after more than three years with the HLI.
There was a slight mistake on the discharge book as my Dad is shown as a Lance Corporal, when he was by that time a Corporal.
My Dad seems to think that the document was signed by a Major who was the 2IC, to the Lieut. Colonel. It looks like the Major was J.G. Coulter or Coultard.  It says that Dad's Military Conduct was Exemplary and the Testimonial reads "Classified Signaller. Thoroughly honest, sober and dependable. Intelligent and thoroughly respectful in his manner.  A good signal ??(word unclear)"
Apparently this was the Army equivalent of a letter of recommendation to be used when getting a job.
Hope it's of some interest.
HLI Community -
HLI Stories
Written by Steve Dobson
Sunday, 20 March 2011 11:29
My Dad, Charles Robert Dobson, known as Charlie or "Scouse", was in the HLI, his memory for names of his platoon and company members isn't brilliant, but I've got a few more stories from him that I thought I'd share. Don't forget that these stories are from a man who turns 85 in two months, so exact dates and historical accuracy is not guaranteed
My father remembers that in Hamburg, his company (A Company) had a Sergeant by the name of BARTELLI.  The sergeant was from a Glasgow family who owned a Fish & Chip shop that was right next door to the Maryhill Barracks.  Maybe some older Glaswegian's may remember the shop? I believe that Glasgow was home to a lot of families of Italian descent.
Another name he recalls from his platoon was a Geordie from Newcastle by the name of DENNIS COCKING, a guy who was football mad and a dyed in the wool Newcastle United fan.  In 1946 a Newcastle player named Albert Stubbins transferred to Liverpool, my Dad's team.  At the time my Dad said it a major move for a record fee of £12,500 and this Dennis Cocking guy moaned and whinged for about two months after the move as he couldn't believe Stubbins had deserted his home town team for Liverpool. Stubbins' later claim to fame was an appearance on the front cover of  The Beatles' Sgt. Pepper's Lonely Hearts Club Band album, the only footballer to be given that honour.
The photo below was taken approximately late 1946 or early 1947 and my Dad appears to be showing off fairly fresh tattoos.  They don't look anywhere near as crisp and sharp now he's 85 years old. 

My Dad also remembers a man by the name of MITCHELL, who won the Military Medal and if you asked him why he had been awarded the medal he would tell you that he got it for throwing snowballs at the Germans. I'd like to know why he had won it? Dad thinks that they had about six MM recipients in the regiment.
There is another reason that my Dad remembers Mitchell, was because their company were detailed as a guard of honour for a visit by the Emir Abdullah, the King of Jordan to the then High Commissioner of Palestine, General Alan Cunningham.   The Commissioners residence was at the top of a hill, the King walked up and down the rows of the honour guard, stopping occasionally to speak to some of the soldiers.  He stopped to speak to Mitchell who was two away from my Dad.  The King said to Mitchell "How long have you been in the British Army?" Mitchell took a breath and bellowed at the top of his lungs "21 years, your Majesty!" The Kings face was a picture apparently.
Another soldier Dad remembers from his platoon was a chap called HARRISON who was a tall, blond lad who came from Keithley in Yorkshire and loved the game of cricket.  Many years later watching a TV programme about the bombing of the King David hotel in Jerusalem, there was photo of Harrison stood with his rifle outside the remains of the hotel were 80+ people had died.  At the time of the bombing the battalion were in the Allenby Barracks, which was just up the road from the hotel.  Several members of the HLI, Dad included, were called out to help get the wounded and dead out of the ruins.
Dad remembers quite a lot of trouble surrounding the issue of demobilisation, a lot of soldiers had been through WWII and now they found themselves in a hot, desolate country, miles from home, whilst others were returning to their wives and families, some of the soldiers got a bit disgruntled. At this time the Battalion had come out of Palestine and were stationed in Egypt. In late 1945 or early 1946 a number of Royal Army Service Corps (RASC) men barricaded themselves on board some barges they were unloading in Port Suez, Egypt, they were protesting because of the slow demob.  Some days after they were forcibly brought out of the barges and found themselves posted to other regiments in the area. The 1st HLI received about 20 of the RASC soldiers who were told in no uncertain terms that if any trouble started in the Battalion, then they would immediately have to report to the Company Office for duty, if they failed to report they were told that they would be tried and shot for mutiny.
Some time later in 1946 Dad and a number of other soldiers from the Battalion, including the Commanding Officer, Colonel Rose, were sent home on a 21 day leave.  On their return to Egypt they were told that whilst they were away the Battalion had formed a mass march from their camp to take part in a meeting, with other Regiments in the area, at an open air cinema, they too were protesting about the very slow demob.  The story goes that the RSM tried to stop the march and had ordered the soldiers on guard duty to fire upon their mates; they refused and let the march pass through.  The HLI had been led on the march by a Provost Sergeant named SLOPER, for this act Sgt. Sloper received a term in the glasshouse, my Dad doesn't remember how long his prison term was. All this had happened under the watch of the 2IC, a Major whose name Dad can't remember, the Major was very quickly posted away.
Conversely, another story tells of a group of men with age and service group numbers as low as 6 or 7 who were being demobbed, sat on the front of a Jeep crying like babies as their Jeep was towed along by another Jeep.  These men were in their late 40's or early 50's and the army had been their life since they had left Glasgow years before.  My old man said that at the time Glasgow and indeed his home town of Liverpool had terrible slums and these guys knew what they were going back to and preferred army life, harsh as it was.
Finally all that association with Scots must have rubbed off on my Dad, because after he'd returned to Civvy Street he met and married a half Scots girl, my Mum, who can trace her family roots back to the early 16th century to the island of Fetlar in Shetland.
I hope that you've enjoyed Dad's stories.
HLI Community -
HLI Stories
Written by HLI Admin
Saturday, 05 March 2011 14:14
Dont really know much about this photo, other than my Dad is 3rd from the right on back row. It is stamped on the back 18 MAART 1945. I would be grateful for any info.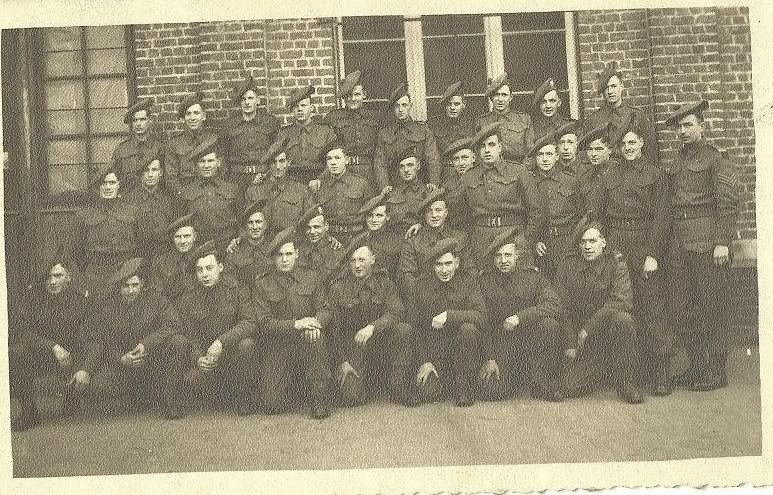 HLI Community -
HLI Stories
Written by HLI Admin
Sunday, 13 February 2011 13:07
Normal 0 MicrosoftInternetExplorer4
My name is Steve Dobson and I'm submitting this information on behalf of my Dad.
I've just come back from visiting my Father, who from 1944 to 1947 belonged to the HLI, City of Glasgow Regiment. My Dad, who'll turn 85 in May, still talks about his days in the HLI. He had recorded a programme which had been on the Yesterday Channel as part of a series called "Infamous Assassinations" this particular programme was about the death of Israeli Prime minister Yitzhak Rabin. The programme gives the back story to the setting up of Israel and about 12 or 13 minutes into the programme, it talks about the Peacekeeping Force sent into Palestine to try and keep the Jews out. The camera flickers showing Jews in Jerusalem and pans across to a group of British soldiers stood by a Bren Gun Carrier, with the number 62 on its front. There are five soldiers, all members of the HLI, Tam o'Shanters on heads and rifles in hands. There amongst the group, second on the right, is a 19 year old Charles Robert Dobson, my father. Or at least we're 98% sure it's my Dad, who was a Bren gun man. The image only lasts seconds, but we paused it and sure enough it looks like my Dad, or at least photos I have of him at that age. My Dad tells me that the White Triangle on the arms of the soldiers shows that they belonged to 1st Division, and Dad was in A Company of the HLI. However he can't recall the names of the other guys in the group, apart from he thinks one may have been called Ballatine. I thought that HLI Association members might like to watch the programme as it bound to be repeated.
My Dad details are Charles Robert Dobson, born 27th May 1926, Liverpool, England. Service Number 14986559, A Company, 1st Battalion, Highland Light Infantry, City of Glasgow Regiment. At the time of the photo, which my Dad thinks was in the winter of 1945-46, because their wearing full uniform, if it had not been winter they would have shorts on, my father was a Lance Corporal and by the time he was demobbed in 1947, he was a Corporal.
My Dad was one of only two Liverpool lads in the HLI (at that time) and of course he was known as "Scouse" or as the Scots guys called him "Scoose" in their Scots brogue. His best friend was a guy called Angus McWilliam of Peterhead, Dad is still in contact with Angus. The only other Liverpudlian my Dad can remember was a guy called Charlie Warwick, who was a Bren Gun Carrier Driver and was in S Company.
So how did a lad from Liverpool, with no Scots ancestry end up in the HLI? Well, in 1944, Dad signed up for the Navy, then it was decided that soldiers rather than sailors were needed so he was transferred to the Army, he tells me that the 149 at the start of his Service Number show that he was a transferee. He was send over to Northern Ireland for his basic training, In the County Down area, not far from Newcastle. Whilst there D Day happened, and after training in about August 1944, he found himself amongst a party of 100 soldiers shipped from Tilbury Docks in London on an American Troop Ship to Belgium. Once in Belgium, the 100 were spilt in half, 50 went into the HLI and the other 50 others ended up with another Scots regiment, possibly the Black Watch or Argyle and Sutherlands. My Dad heard that these 50 guys were all killed later in the war.
The HLI were at time part of the 53rd Welsh Division according to Dad and they went into Germany in February 1945 at a place called Goch, which is south east of Nijmegen in Holland. He ended up in Hamburg near the end of April 1945 and he tells a story of being posted on guard duty at Hamburg Cathedral on May 8th, the night the war in Europe ended. The place they were particularly guarding was the wine cellars below the Cathedral; you can imagine the chaos that eschewed with a load of young Scots lads and a Scouser guarding a cellar full of wine!!
After the VE day, Dad was on guard duty at a barracks were Josef Kramer and other prisoners from the Belsen camp where held. Then about July or August they were flown in a converted Stirling Bomber from Brussels to a place called Heliopolis near Cairo, Egypt, for one month's acclimatisation to the heat before going into Palestine. Dad remembers that VJ day, August 14th, happened whilst he was out there, as he remembers discussing the Atom Bombs etc. Anyway he ended up spending about 2½ years out in Palestine in various locations. Dad remembers the footballer  and later manager,Tommy Docherty, joining D company at some point whilst they were in Palestine.
After the war, he was one of many reservists, who were called up because of the war in Korea, luckily he was never sent to Korea and went back to civvy street, working as a tram and bus driver in Liverpool. Dad remained in the TA for many years but was then attached to the Royal Artillery; by the time he was discharged from the TA in 1960 he'd reached to rank of Sergeant.
He was able to put his time in the Army to use, because of an organisation called the Royal Artillery Association. Through which he managed to get a job as a chauffeur to the Managing Director of a shipping company.
Luckily despite being nearly 85, his memory is fantastic, so hopefully he'll come up with some interesting stuff. I look forward to when the WWII section of the website is complete, I'll bring my Dad up and let him sit at my computer and reminisce.
« StartPrev12

3

Next

End

»
Page 3 of 3