Find a Friend
This section is where you can search for your friends and comrades from the Regiment or look for friends of your family members who served.
HLI Community -
Find a Friend
Written by Stewart Craig
Wednesday, 17 May 2017 15:47
Hello, I have been trying for sometime to locate my late fathers army records.
He enlisted to the HLI in Glasgow om the 5th March 1940 and his army number was 3320947 . During his army service he lost a leg and was invalided out ans discharged at Perth on 26 March 1943. Can anyone show me where I might find some information on his army service. I have no knowledge of where he served, what his duties were or even how he came to have a leg amputated.
Thank you in anticipation
Stewart Craig
HLI Community -
Find a Friend
Written by JimDevine
Thursday, 11 August 2016 16:16
My father James (Jim) Park served in the HLI from 1950-1956.  He sadly passed away in 1977 when I was 5 years old and I am trying to obtain any information that I can on his time in the HLI.
I would also like to obtain any information I can on my father's good friend in the HLI - his name is David Gray (or Grey).  My mother told me that David was a very good friend of my father's and he married an English woman and moved to Manchester either during service or shortly thereafter.
I also attach a couple of photographs of my father: the first one shows my father sat in the front row, third from right, he is the Corporal.  The second one shows my father firing the Vickers machine gun at the back of the photograph - this photograph was possibly taken in Egypt, Libya, or Cyprus.
If anyone can help me obtain any information on my father it would be greatly appreciated.  My email address is:  This e-mail address is being protected from spambots. You need JavaScript enabled to view it
Thank you and best wishes,
Robert Park
HLI Community -
Find a Friend
Written by JimDevine
Tuesday, 28 October 2014 00:10
Can anyone advise Peter Tarrant on the identity of the HLI soldier in this photo? He thinks it might be Alex McGregor a cousin of his?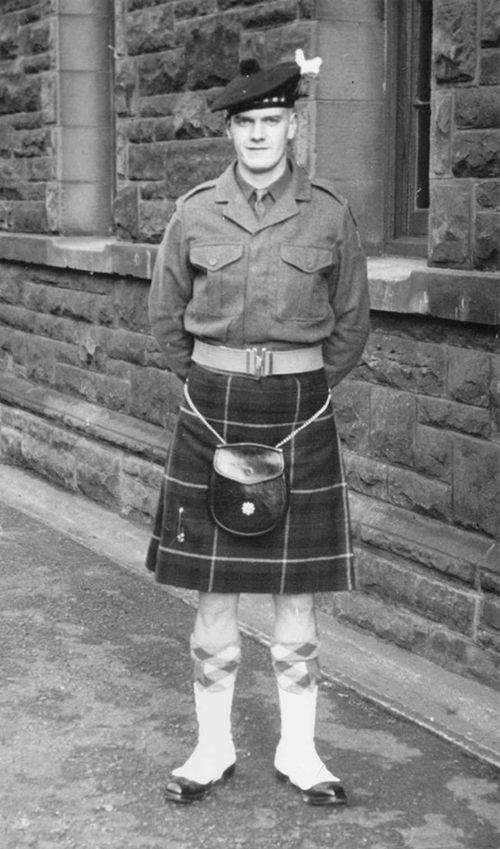 The kilt identifies it as sometime between 1948 and 1959.
Thanks in advance for any suggestions.
From Peter...  I hope someone could help me identify the person in the photo, whilst researching my family tree I came across this photo that was among my Mothers possessions.
I believe it may be Alexander Mcgregor but I am not certain about it.
If anyone can be of help I would be grateful.
Kind regards.
Peter Tarrant.
HLI Community -
Find a Friend
Written by JimDevine
Monday, 25 February 2013 00:14
looking for members of the hli pipe band  1952   1953   if anybody rembers  horrace  please contact me on  This e-mail address is being protected from spambots. You need JavaScript enabled to view it
HLI Community -
Find a Friend
Written by JimDevine
Tuesday, 04 December 2012 10:51
3316968 Cpl William Nixon Joined on 15 Sep 1939 till 1946,( William is now 94) he would like to know if there are any of the 10th Bn still out there that he can contact to let them know someone is still here, 
Willie goes to Germany with Willie Shaw and the group. 
A request from John(Spud)Thompson via the RHF Forum.  Please post a reply here and/or to the Secretary.
«

Start

Prev

1

23NextEnd »
Page 1 of 3