Family History Research
This section is where members can share family history research. Please keep this section focused on the HLI and associataed Regiments.
HLI Community -
Family History Research
Written by Dominic Rossi
Sunday, 09 October 2016 16:55
I am doing some research on the service in the HLI of Brigadier Percival DSO & Bar, for a relative.
I understand that the Brigadier spent some time in 6 HLI in NW Europe and would be interested to hear from any old comrade, or from any other members of the Association who have photographs or other information on this gallant gentleman.
Thanks
Dominic Rossi
HLI Community -
Family History Research
Written by OwenMasters
Tuesday, 04 October 2016 09:44
Dear All,
On behalf of his Son, I am hoping to trace the Army Career of my Father -in-Law Ernest William Brown.  Ern died in 1975, but often spoke of his time in the Army.  He was born and lived in Consett County Durham, and said that as a teenager he joined the HLI in Durham in the late 1920s.  He often said, he thought he was joining the Durham Light Infantry!!!   He served in India, and left the army in 1935/36 when he married.
The only personal possessions of his time in the Army are the photo's shown below.   One of Ern in uniform, and the other of his Regiment perhaps in India.
Is there someone who can confirm that the uniform is that of the HLI.   It would also be helpful to know if the marching column is thought to be that of the HLI.
Any information would be helpful, including any link where we could find his Army Records.
Thanking you
in anticipation.
Owen Masters
HLI Community -
Family History Research
Written by JimDevine
Tuesday, 28 October 2014 00:12
Can anyone advise Peter Tarrant on the identity of the HLI soldier in this photo? He thinks it might be Alex McGregor a cousin of his?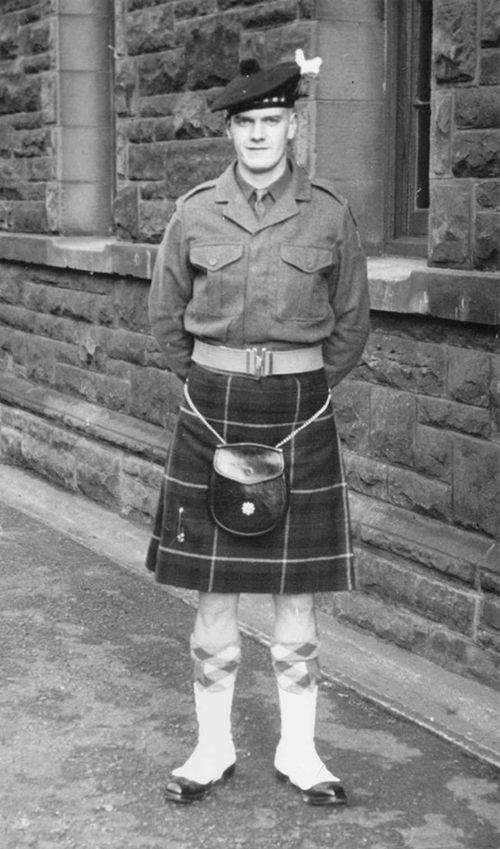 The kilt identifies it as sometime between 1948 and 1959.
Thanks in advance for any suggestions.
From Peter... I hope someone could help me identify the person in the photo, whilst researching my family tree I came across this photo that was among my Mothers possessions.
I believe it may be Alexander Mcgregor but I am not certain about it.
If anyone can be of help I would be grateful.
Kind regards.
Peter Tarrant.
HLI Community -
Family History Research
Written by JimDevine
Saturday, 21 December 2013 13:07
Hello Ladies and Gents,
My name is Ewan McNeil. I was asked by a friend to ask if anyone out there may have information on his father and namesake, Francis Barnett, who ended up a Sergeant in the HLI? He was Irish and very probably joined up in Glasgow. He fought in WWI and was injured in 1917. My friend understands that this was down to being wounded. Apparently Francis Barnett conducted a significant act of bravery and was due to be offered formal recognition of this (possibly VC), with recommendation from an officer by the surname of Stuart. However, sadly officer Stuart was killed going over the top, so no recommendation was made.
MY fiend would dearly love to know of his father's time in the HLI. I have tried forces-war-records.co.uk, but there is no record of a Francis Barnett in the HLI there that I could find.
If Francis Barnett rings a bell out there with anyone I would be very grateful indeed to hear from you.
Thank you :)
Ewan McNeil
HLI Community -
Family History Research
Written by JimDevine
Saturday, 26 January 2013 17:54
The attached are pictures of my other great uncle William Gilmour from the Maryhill area.  Members at WW2 Talk and the Army Museum suspect the uniform is HLI.  Could you possibly post on my behalf to see if anybody can confirm it's HLI please?  Unfortunately I do not have to original photographs.
I'm still waiting on Alexander's service record but I suspect he may not have seen overseas service due to his age by 1939.  Regardless, I still got a copy of Mountain & Flood and am thoroughly enjoying the read.
Hope all is well with you and am really looking forward to stopping by the museum when I can get a chance to pop down to Glasgow one of these days.
Kind regards
Maria
Please reply to Maria if you can shed any light.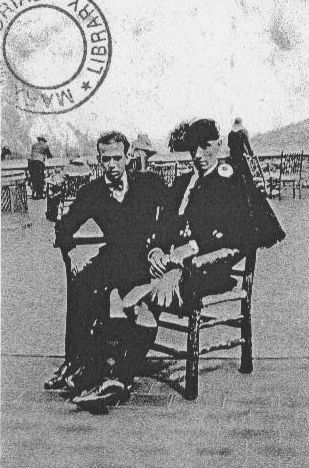 «

Start

Prev

1

234567NextEnd »
Page 1 of 7